JUN 4, 2021?FRI: Lottery Scholarship Will Cover Full Tuition, Redistricting Advisory Panel Takes Shape, + More By KUNM NEWS

June 4, 2021 President Pro Tempore Mimi Stewart Appoints Attorney Lisa Curtis to Citizen Redistricting Committee By: Senate Democrats New Mexico

June 4, 2021 Retired Supreme Court Justice Edward Chávez to head redistricting panel BY DAN MCKAY

June 4, 2021 Redistricting advisory panel takes shape in New Mexico By Morgan Lee

June 4, 2021 Redistricting: Advocates want prisoners counted where they're from, not incarcerated By Bella Davis

May 4, 2021 New Mexico lawmakers forming panel for redistricting see strong interest By Robert Nott

Apr 24, 2021 Ethics commission seeking applicants for redistricting committee By Sonny Haquani

Apr 6, 2021 Redistricting bill one of 50 signed into law Tuesday by Lujan Grisham By Robert Nott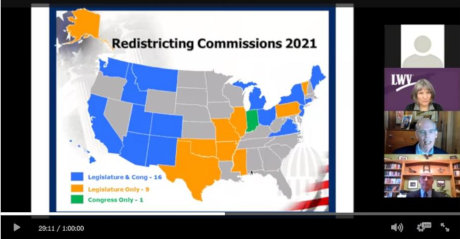 Redistricting Webinar: People Powered Fair Maps
April 29, 2021:
In a webinar on redistricting, Justice Chavez gave a brief summary of the Citizen Redistricting Committee created by SB304. Peter Wattson discussed other states with similar redistricting models, and gave advice on what we can do to prepare even before the CRC starts.
Documents for the webinar:
Redistricting Reform Wins!
4/6/21: Redistricting bill one of 50 governor signs today. by: Robert Nott
4/6/21: Gov. signs bills on tax breaks, redistricting. by: Dan Boyd and Dan McKay
3/22/21: N.M. Legislature gets behind only partial mapmaking independence. by: Sara Swann
3/22/21: New Mexico approves independent redistricting panel.  by: Reid Wilson
3/22/2021 New Mexico Legislature delivers virus aid, civil rights; falters on pot. by Morgan Lee and Cedar Attanasio
3/21/21 FINAL FLURRY Last-minute deal breaks logjam, clears way for many bills to pass. by Dan McKay and Dan Boyd
3/20/21  State House approves bill creating independent redistricting commission by: Robert Nott
3/20/21 House sends bipartisan redistricting bill to Senate. by: DAN MCKAY
3/20/21 A dramatic finish to New Mexico's legislative session.  by Robert Nott and Daniel Chacon
3/20/21 Legislature Passes Redistricting Committee Legislation With Bipartisan Support. by:  Los Alamos Reporter